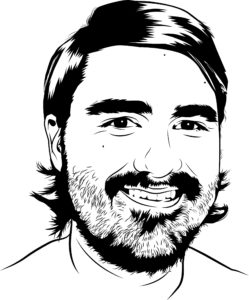 I am Nathan Irvine, founder and owner of HippieTechs LLC. I am the one that will greet you, repair your Mac, recover your data, and keep you up to date throughout the entire process. Thank you for taking the time to learn a little about me!
Early Childhood
I grew up in a very small town in the Northern part of California about 2 hours North of Sacramento. We had two general stores, an intersection with four stop signs, a barber shop, a VHS rental business, and a small restaurant with seating for 10 that changed over the years (Julie's Burgers was always my favorite).
As you might imagine I had a lot of time on my hands. I filled some of that time with digital related pursuits including spending many summer days taking pictures of bees, sunsets, ponds, and anything else I thought would make a good picture. My first camera was an Agfa which took about 6 seconds to "Auto Focus", then another 3 seconds to write the 1MP picture to the 8MB memory card. Later I took many thousands of pictures with my Nikon Coolpix 880 (a camera that I saved for years to afford). I practiced editing the photos in Photoshop and spent many hours cutting people out of pictures and placing them in places that would be considered humorous.
At the age of ten, my parents bought my siblings and myself a brand new Apple Macintosh Performa 6400. My life was forever changed. I played and fiddled with our Mac endlessly. My dad fostered my love of Apple computers and told me stories of how Steve Jobs and Steve Woz started Apple. I was enthralled and I still remember the day he came home and told me that Steve was back at Apple!
When we finally filled up the 2.4GB hard drive (mostly with my pictures), my father and I replaced it with a HUGE 10GB drive and increased the RAM from 16MB to 80MB. This was my first time taking apart an Apple computer and I have been hooked ever since.
During my teenage years I enjoyed more active sports like wakebording, flying RC gliders, mountain biking, and of course, fishing… but I never lost my interest in Apple computers. The first computer I ever purchased new (and the last) was an eMac I bought while a teenager. It was the Mac Apple branded as "good for education", and I did learn a lot about Macs by owning one. At this time I had switched focus from digital photography to digital videography, and my eMac was my editing machine.
Business Pursuits
In sync with my love of Apple (then Apple, Inc.), I also had a love for business. I actually started my first business at the age of 5, well before I knew anything of computers. I sold pens for 10¢ to kids at the local school. I would take apart the pens and put them back together, swapping out colors and pieces to create "custom" pens (can you tell it was in the early 90's?).
When I was 11 I began another business venture, raising and selling chickens. I invested in two incubators that would allow me to hatch 50 chicks at a time, and while my actual yield was around 50%, I did manage to raise over 100 chickens in one summer. My dad took me to the local swap meet and helped me sell them at the end of summer.
The proceeds of my businesses funded my love of photography. All my money went towards new digital cameras or upgrades to one I already had. I spent countless hours taking pictures of bees in particular. My uncle came for a visit once and showed off his Canon 5D with a 24-70L series lens. I couldn't believe how awesome that camera was! I began saving immediately.
MacUnwired
At 17 I "accidentally" won a few G4 towers on Ebay… I was working at a plant shop at the time and used the machines to demonstrate to my boss how they could help with productivity. He bought the setup (my first sale ever). After that I started buying and selling used Apple computers and components on eBay. I specialized in wireless cards as Apple laptops at the time did not come with wifi cards built in. I found that the same wireless cards that were used in their laptops were being used in the Wireless access points that Apple was selling. The access points were cheaper than the market price of the cards by themselves. So I bought hundreds of access points, pulled the wireless cards out of the devices and sold them for use in computers.
I divided my time between my business, my full time job and college where I pursued a degree in business. When I was almost through college I moved to Los Angeles, graduated with a BS in business and started spending more time on my computer business which I had named "MacUnwired".
MacReboot
While in LA I shifted the direction of my business from sales to services. I always liked fixing and upgrading Macs more than I liked selling them, and this move was a successful one for me and I've been focusing on providing Mac repair and data recovery ever since. I started small (in my garage), specializing in the kinds of repairs most mac shops don't want to take on.
LCD screen replacement on the original white MacBooks was a bit of a pain. Most shops needed to charge two hours labor in order to cover the time it took to disassemble the laptop to the point where the screen could be replaced. I found a tool at a hardware shop that allowed to to unplug and plug the wires in that would normally force you to disassemble the whole laptop. With a little practice I was able to decrease my turnaround time from 2 hours to 12 minutes. Because I was able to offer the repair at a lower cost (due to the decrease in labor), I was able to sell my services online (on my website as well as Ebay). At one point I was receiving 3-4 orders a day from around the country to replace cracked screens in original MacBooks.
EliteMacTechs
After a few years I began to outgrow my garage and living room as my local clientele increased. I met another great Apple tech that was running his repair shop out of his apartment. I convinced him to team up and we opened a joint Mac repair shop in Studio City CA called EliteMacTechs. EliteMacTechs continues to be well known in Los Angeles (and around the country) for providing fast quality repairs at an affordable price. EliteMacTechs offers repairs locally in Los Angeles as well as around the country (and Canada) via a mail-in repair service.
HippieTechs
In 2017 I moved with my family to Boise Idaho to pursue the quality of life I wanted to provide my children. I started HippieTechs and began offering Mac Repair and Data Recovery services out of a downtown office (you can read more about the history of my current location here). If you choose to use my services for Mac repair or data recovery you will find I have knowledge that can only come from decades of being in the business.
I've come a long way since my "custom pen" business; I've learned a lot about what works and what doesn't; my business has seen many changes, but in the end, one thing always stays the same: I believe in running a business I can stand by, with excellent customer service and quality repairs.
Thanks for reading!
-Nathan